Users
Overview
See the users assigned to your SecureCloud account, invite new users, view pending users (users that have been invited to join the account but not yet joined) and edit or delete existing users. The user that created the account is marked as the primary user

and cannot be deleted.
This function is available only to users with the Global Admin role.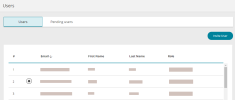 Roles
A SecureCloud user can have one or more of the following roles:
Global Admin - unlimited access to all SecureCloud functions

Global Viewer - view-only access to all SecureCloud functions

Cloud Account Viewer - view-only access to all or selected public cloud accounts
What Can I Do Here?
Invite a User
To invite a user:
Enter the email of the user you want to add to the account.

Select a role

If role Cloud Account Viewer is selected, you must specify at least one account to which access is granted or specify All accounts.

Additional roles can be added - click Add another role.

Click Invite.

An email invitation will be sent to the user containing instructions for joining the account. When the user receives your invitation to join the account, they can click Join in the email message, enter their name and password and then log in
Manage Pending Users
The invitee will appear under the Pending Users tab until they sign up or their invitation is revoked.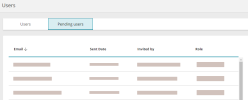 To resend an invite, click resend

.
To revoke the invitation, click

.
Edit a User
All properties of the user can be changed, except the email.
Click on edit for the user you want to edit.
Make changes and click

Save

.
Delete a User
Click

for the user you want to delete.
How Do I Get Here?
Main Menu > Configuration > Users